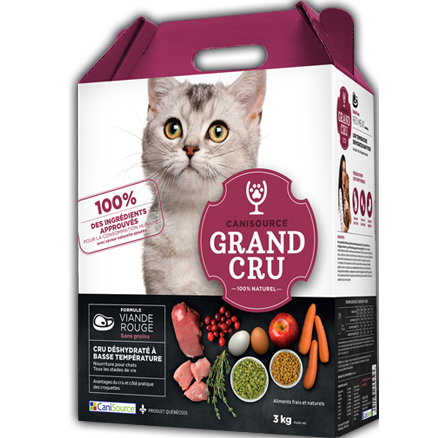 CaniSource Grand Cru Grain-Free Red Meat - Cat Food
100% of our ingredients are certified fit for human consumption!

Our feline nutrition specialists create delicious and perfectly balanced recipes to provide your cat with all the essential nutrients it needs to stay in top shape regardless of its age and breed. Our unique low-temperature dehydration process preserves the integrity of these nutrients.

Discover the many flavors that CaniSource Grand Cru will feed to your cat!

CaniSource Grand Cru kibbles are made with 100% natural ingredients and do not contain any meat meal, fishmeal, slaughterhouse rejects or by-products, food coloring, preservatives, wheat, soy, or corn. All of our meat is carefully selected and prepared in HACCP certified plants.